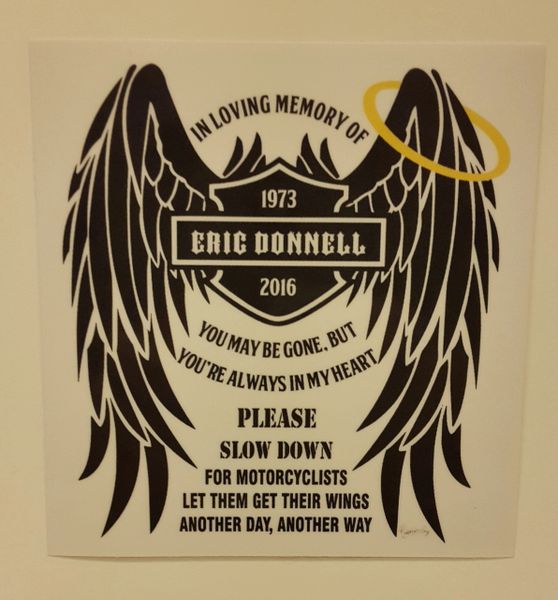 Eric Memorial
These stickers are 3.75" wide and 4" tall. They are printed on outdoor vinyl and have a UV coating for outdoor use.
I can not tell you how much I have struggled with this sticker. I'm sure Eric would agree that Natalie Long did a fantastic job creating this image. I personally paid to have these stickers printed because I absolutely refuse to turn a profit from the loss of my very good friend Eric Donnell. I do know however that there are other friends and family who want one of these stickers so they can display the love they have for Eric and his family. That being said I have set a price of $1.00 in order to cover what I am charged by the credit card companies, Paypal, and the cost of envelopes, labels..etc.
I ship all my stickers inside an envelope that is lined with card stock and a label that includes a tracking number. All of this helps to ensure that your sticker will not only arrive quickly but will arrive in perfect condition.
Eric my friend I miss you everyday and though you have been gone for such a short time I feel an eternity has passed since I hugged your big fat neck. I love you brother and miss you so very much.